D-M-E — your mold tooling advantage for over five decades
DME standard A series mold bases

The standard basic mold design most frequently required by quality-minded moidmakers and molders is the D-M-E "A" Series Mold Base Assembly. It has been pre-engineered in cooperation with experienced mold designers to accommodate the widest variety of injection molding applications. It suits most plastics par requirements, simplifies mold design, increases moldmaking productivity, and still gives the molder the most economical, high performance mold construction. This production-proven, four-plate D-M-E Mold Base Assembly permits through-pocket machining for cavity and core inserts in the accurately aligned Cavity Retainer Plates- thus reducing mold machining time and costs.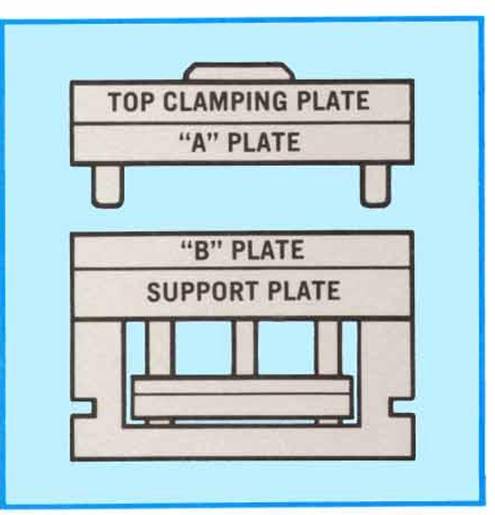 Space-Saving Tubular Dowel Construction
Every D-M-E"A" Series Mold Base Assembly incorporates the D-M-E Space Saving Tubular Dowel construction which provides more room for heating or cooling lines; and D-M-Es unique, welded Ejector Housing and flush clamp slots to allow more cavity area between the molding machine tie bars. All D-M-E Standard Mold Bases are machined square to provide you with a choice of reference points in the opposite mold halves - either from the matched edges of the Cavity Retainer Plates or from the accurately aligned leader pin and bushing holes. Every detail, including the welded and ground stop pins under the ejector bar and the high-strength socket head cap screws, has been pre-engineered to give you trouble-free mold performance and less machine downtime.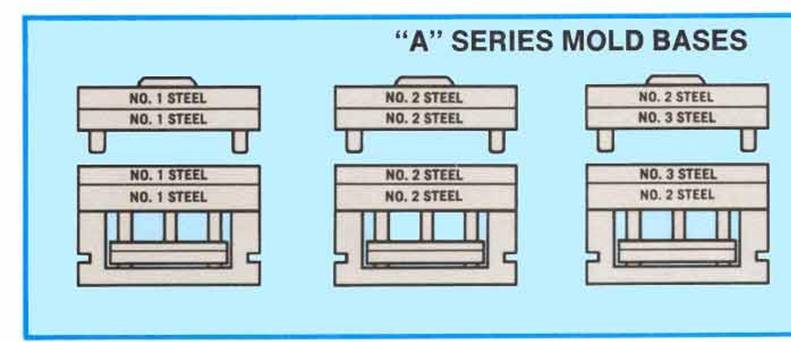 A Series Mold Bases are available in over 40 standard sizes. from 7-7/8 x 7-7/8 to 23-3/4 x 35-1/2 Each size offers a wide variety of standard cavity plate thickness combinations, plus your choice of D-M-E No.